COLOSSEUM SHOW AT CAESARS PALACE LEAVES AUDIENCE CHEERING for 'MILLION DOLLAR PIANO'
The "Million Dollar Piano" is part piano, part video screen, with a hypnotic, engaging effect on the audience at Caesar's.
Cookie in red scarf, with Keller, right, and friends Bob & Sue.
STORY By CHRISTENE MEYERS
PHOTOS By BRUCE KELLER
SIR ELTON JOHN
is legendary in the world of popular music.
He has an astonishing 47 albums to his credit, the biggest selling single of all time -- "Candle in the Wind" -- collaborated on a Broadway hit -- "The Lion King," -- and keeps a touring schedule that would leave people half his age breathless.
Elton John's back-up singers includes four well known singers.
Rose Stone, third from left, gained fame with "Sly and the Family Stone."
All that talent, plus a dazzling wardrobe.
WE SAW SIR
Elton a few days ago in a festive mood at his sold-out concert. It was birthday week for the dapper singer, who turned 68 Wednesday.
Cookie and Keller, left, with
friends Bob and Sue at Caesar's.
I'VE FOLLOWED
his career since I was young -- and have seen him in concert three times. I was with Tony Bennett and Lady Gaga on New Year's Eve, but if I'd been on the east coast, I'd have seen Elton's first New Year's Eve show in New York. His rousing rendition of "I'm Still Standing" brought down the house there -- and at our Vegas show Saturday.)
Sir Elton John's performance
at Caesar's Colosseum
is not to be missed.
OTHER HITS
Sir Elton sang at our recent "Million Dollar Piano" concert were "Empty Garden" (Hey Hey Johnny), written as a tribute to his friend John Lennon, "I Guess That's Why They Call It the Blues," "Don't Let the Sun Go Down on Me," "Philadelphia Freedom," "Crocodile Rock," "Saturday Night's Alright for Fighting" and, "Goodbye Yellow Brick Road," which brought the screaming audience to its feet.
SIR ELTON'S
Vegas magic goes back to 2003 at Caesar's, when he dazzled with his lauded "The Red Piano" show in the Colosseum. That played through 2009, then in 2011, Sir Elton returned to Las Vegas with a new gig in the same hallowed theater where we saw Bette Midler and Cher. The Colosseum remains our favorite Vegas venue and the new show -- "The Million Dollar Piano" -- continues its tradition of excellence. Named after hybrid half-piano, half-video-screen instrument, the creation took Yamaha four years to develop.
GORGEOUS, ever changing visual imagery on the piano creates a spectacular evening, unlike anything we've seen worldwide.
Sir Elton John in earlier days. He still creates a dazzling presence on stage.
Below right, he smiles with his husband David Furnish.
The piano's built-in video screen complements the music for a mesmerizing concert experience.
Both new and older pieces are there -- with Bernie Taupin's presence felt in his brilliant lyrics. Their long collaboration is one of the most successful in show biz history.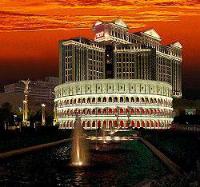 The Colosseum -- at Caesar's --
is the venue for Elton John's new showw.
Performing with Sir Elton is his astonishing band: Davey Johnstone on guitar; Guy Babylon on keyboards; Bob Birch on bass guitar; Ray Cooper on percussion; and Nigel Olsson on drums, plus two fine new Eastern European cellists and four female backup singers including Rose Stone from the original Sly and The Family Stone.
Birds in paradise on the Las Vegas strip, click here
JUST BEFORE
Christmas, Sir Elton married his partner of 21 years, David Furnish. They received the Human Rights Campaign's National Equality Award in Washington D.C., between 105 public, charity and private performances on a dizzying 17-country tour.
Our Saturday show was long sold out, but tickets remain for the rest of the Vegas run. If you are anywhere near Caesar's Colosseum through April 14, be there! Then Sir Elton takes a couple weeks off before launching a three-month tour. After Texas and Louisiana, he and his orchestra cross the pond to Sir Elton's native United Kingdom, then Switzerland, Scandinavia, Germany, Holland and Italy. That tour ends in July, then after a break, the amazingly energetic Sir Elton heads to Australia and New Zealand.
HAPPY BELATED birthday, Sir Elton John. Thank you for years of fantastic entertainment, and for sharing your enormous talent and generous heart.
San Diego Repertory Theatre's artistic
director Sam Woodhouse directs an
electrifying performance of a spin on
the Greek tragedy, "Oedipus Rex."
Lakin Valdez and Monica
Sanchez are electrifying
in "Oedipus El Ray."
DON'T MISS
"Oedipus El Ray" at the Lyceum Theater, Horton Plaza, downtown San Diego. The latest inventive production from San Diego Repertory Theatre will knock your theatrical socks off. It's a Latino spin on the classic play, "Oedipus Rex," by Sophocles. Taking a page from the centuries older Greek playwright, Luis Alfaro creates a moving chorus of three inmates, who move the action forward and explain the tragedy's plot points. Actors Lakin Valdez and Monica Sanchez are electrifying, backed by terrific support on a sparse, effective Lyceum stage. Rep founder and artistic director Sam Woodhouse displays his usual sense of daring, pushing the envelope with an extensive nude sex scene between Oedipus and his mother. The work is bold, gutsy and memorable -- not for the faint of heart; rather it is for lovers of fine theater. Get your tickets now for the run ends this weekend:
sdrep.org
What is it about Australia
that breeds fine actors?
Here's Nicole Kidman.
Up next at lilianslastdance!

NEXT UP AT LILIAN'S LAST DANCE:
An artful side of Australian life is its active theatrical and film life. Nicole Kidman returns often to her native land and keeps several homes there. But Australia's love of acting goes back to its early days. Remember to explore, live and learn, and check us out for features on the arts -- movies, TV, museums and books. Visit us weekends at
www.lilianslastdance.com